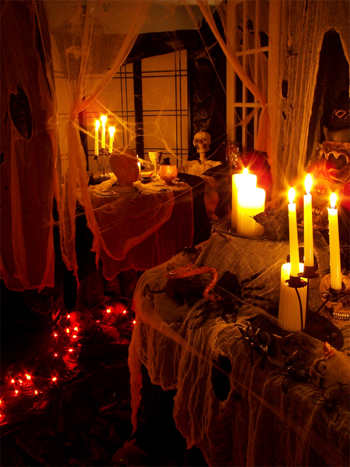 Autumn is one of my favorite seasons for many reasons. My birthday!!, also I love the autumn decoration. I live in a place where seasons don't really exist, the weather is beautiful ALL the time, which is nice, but i am missing out on the nice changes that seasons can bring.
For example, I love the change of color of the leaves in the trees. I can't believe a green tree can turn yellow, orange, brown, even some shades of pink and purple! That is amazing to me.
Plus, I love Halloween. I was searching for some Halloween crafts to do for my home and also for my 3rd and 4th grade students. I found such great projects, like that Sock Skeleton,

you can find the tutorial
HERE.
For the

Cookie Wreath
HERE.
For the

Halloween Votives
HERE
.

For the

Black Cat Pillows
HERE
.
If you need more ideas you can just go online and search away! You will find amazing and super-creative projects to get you in the Halloween feeling.